performing the songs of frank sinatra, dean martin, and many

others

or

the 50's, 60's, and 70's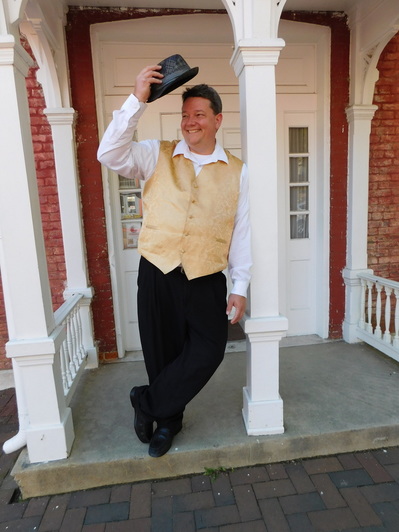 ​Bringing back the standards...those familiar songs from an era when music was as timeless as the memories...
​
​Here is what people are saying about Lamar's performances:

Lamar,
FANTASTIC! You were just Fantastic. You are a wonderful performer. I feel fortunate to have "found" you. I will certainly give your card to fellow senior Coordinators and activity directors.
You certainly made our ItalianFest a success! I really appreciate that!
Thank you so much Lamar. I hope to book you again next year!
With thanks,
Peggy Hogan
Senior Citizen Coordinator
City of Florissant
​"The value Lamar brings to his presentation is obvious from the first time you meet him. He is a professional that is acutely aware of the audience, quickly adjusting to their needs.
We feel very comfortable recommending Lamar Pilsing for
any
event
that you would want
quality entertainment
for your guests."
Wayne and Sara Sanders - owners of The Three Families Restaurant
"The songs we sing are priceless and the hearts they touch………………Immeasurable."
It is my belief that "your delivery and your gift of song" allows each timeless standard the ability
to touch and soothe the soul. Simplistically stated "A true talent and blessing"
Gary Bennett, Entertainer
"Our residents really enjoy Lamar's performances because he reaches out to them. In addition to having a great voice, Lamar has a wonderful sense of humor. He has performed for both our independent living and skilled care residents and they continue to talk about him. He's been one of the best entertainers Cape Albeon has had and we will definitely have him back!"
Margaret Robinson, Activity Director Cape Albeon
"Lamar performed at our annual St. Louis Children's Hospital event, Cocktails and Clowns. He was able to catch the audience of over 620 attendees with his amazing vocals. Lamar is a great entertainer with his ability to sing the rat pack favorites and gives everyone in the old Hollywood feel. "
-
Megan KellerYoung friends of St. Louis Hospital Board Member
"When Lamar performed at Bethesda Terrace the residents loved him and commented that "He plays our kind of music" and "We have to have him back" they love the way he interacts with them, he has charisma."
Ruth Nickel
Activity Director
Bethesda Terrace
"I just wanted to send you a personal thank you for such a terrific job on your performance.
Great Job. Thank you for being a part of our workshop/show."
Carol Pope
http://www.bridestlouis.com/
Bride St. Louis
636-345-1945
"He's fantastic and I like his smile too!"-
Bethesda Terrace resident
"He's Sinatra imitating Louie Armstrong"
- Twin Oaks at Heritage Pointe resident
"What a great talent ! Not only do you have an amazing voice, your interaction with our residents was wonderful. I really loved watching you "move" around the stage & "work" the crowd! -Elizabeth (Care employee)
- Twin Oaks at Heritage Pointe
"I've lived here for two years and have never seen a performer work as hard as you did in an hour."
Senior Resident
"Lamar thank you for helping us celebrate Chucks 60th birthday with such class. Everyone commented that if they shut their eyes they thought you were Frank :).......you are terrific and we look forward to the next event and seeing you perform at Three Families on Sundays!! You are terrific!!"
Ann Ritter
"Lamar- Thanks so much for making my Mom's party such a success! She can't stop talking about how much fun she had--as we all did!"
Nancy Etling
"Kudos to you! We had great time and you are on Facebook. My niece videoed you a few times. I handed out all the cards and saved 1 or 2 to share. Again thanks. Good time had by all!"
Sally Shaw
"Lamar, it is so relaxing to listen to you sing these great old songs. You can sing the stress right out of my life! Looking forward to hearing you again real soon. I know everyone who comes to hear you is always amazed at your performances. Keep singing those great songs!"
Pat Baker
"In my opinion, Lamar is as good as any singer I have heard at Branson and everyone loved his singing.
He has a gift….."
Bill Lowery
"I don't know who you are but Sinatra would be jealous as hell!"
Meadowland resident
"Your performance was the greatest! And you sang to a tough crowd. Our residents
talked about you for days. You brought back so many good memories for our group.
I haven't seen them smile like that for a long time."
Kay Chick
"Lamar Pilsing did the after dinner entertainment and he was fantastic!!!! What a
voice!!! It was amazing and I stayed until the end!!!"
Pris Zahner
---